We like to visit Bruges twice a year. It is so beautiful that it refreshes the spirit – and the food is just to our taste.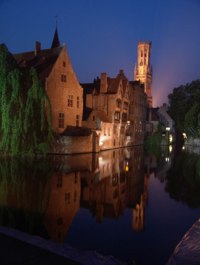 Everyone who goes to Bruges will have their own favourite places to visit, and restaurants at which they like to eat. This is our own very personal selection.
We travel by Eurostar on a return ticket which can take us to any station in Belgium. So the first leg is to Brussels, which now only takes two hours. Then we look on the destination board for trains leaving for Knokke/Blankenberge, which stop at Ghent, and then at Bruges where the train divides for the above two stations. The destination board does not feature Bruges! This second leg takes fifty minutes. Remember to keep your ticket through from Eurostar to Bruges. If you go by car, remember that parking is limited in Bruges which has many one-way streets (though cycles often go both ways, so watch out for them).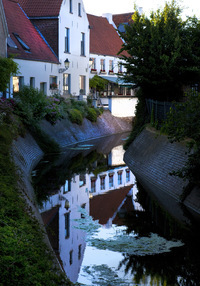 Hotels: There are many, and most are featured on the internet. We use a small family- run hotel facing one of the canals, the Europ Hotel at Augustijnenrei 18. You can contact them through the internet on www.hoteleurop.com. This is a two star hotel. As with most Continental hotels, they only do B&B, but the breakfasts are immense.
To see: Everywhere you look, the view is delightful, so if you can spare the time, walk around, don't bother taking photographs because you can buy cards; just absorb as much as you can through your eyes. Try walking along one of the canals that intersect the city. Each of the main roads leads out to the big, commercial canal which encircles Bruges and carries goods on huge barges around the country. There are restored Gatehouses at almost all these junctions. The windmills on the canal bank are each one from a different design, and have also been restored. The canals are kept beautifully clean and you can see plenty of ducks, swans, moorhens, and often herons and other birds on them.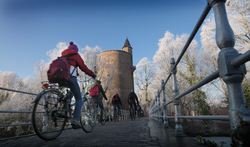 You should make time to visit the Minnewater, which is lake/canal/park surrounded by old buildings, including the protected ancient buildings where the nuns live and worship. For the more worldly among us, there is a brewery nearby which is worth a visit for the atmosphere, beer and coffee. They also do conducted tours.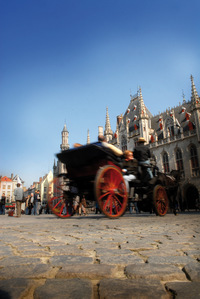 Organised trips: There are trips on the canals in large tourist boats (see anchor logos for where they start), rides in the horse carriages (from the Markt), and one hour tours by small buses (start in the Markt). Also the trip up the canal to a beautiful village called Damme by converted paddle steamer is highly recommended. We eat there at 't Meiliedje where you can have a wooden platter covered with fine ham to eat with chunky bread, and sample a locally-brewed beer. Buses to everywhere start from the station and from the Markt.
Museums: are what we'd call art galleries. The Flemish Primitives are in the Groeninge Museum and the Memlings are at St. John's (earliest hospital, well worth seeing). The Folklore Museum is fascinating, as is the one for lace. The ancient and very splendid Gruuthuse Palace is where Richard III and Edward IV took refuge in the York/Lancaster wars. Charles II and James his brother also stayed there.

There's a lovely Michaelangelo statue in the Church of Our Lady. Some concerts are held in the churches. There is a big new concert hall on the t'Zand – see www.concertgebouw.be and click on EN in top right corner for details. There is also a superb but small l8th C theatre on Vlaamingstraat – www.cultuurcentrumbrugge.be for the programme.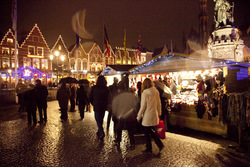 Markets: On Wednesdays there is a market for fruit, vegetables, cheese, chickens and plants in the Markt. On Saturdays this moves to the t'Zand, where they also have many caravan/shops coming in to sell household goods and fashions. Many tourists visit just for this. Just beyond the t'Zand there is a market for fruit/veg/plants and small livestock such as day-old chickens, turkeys, ducks, etc..
Restaurants: You can eat well for ten euros, and there are various pasta and pizza places for those who prefer them, but we like to sample Flemish cooking which is often based on beer, not wine. There are so many beers available in Bruges that I can't begin to mention them.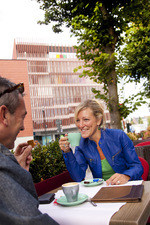 Our favourite eating places are De Stove in St Amandstraat (www.restaurantdestove.be) and Bistro Den Huzaar in Vlaamingstraat. If you visit the Huzaar, you can ask for a special coffee which costs more but includes a tray of small taster desserts: i/c in shape of swan, chocolate mousse, tiramisu, etc. We also like the Breydel de Coninck in Breidelstraat for fish dishes, but remember that though many restaurants advertise mussels throughout the year, the local ones are only available when there is an 'R' in the month. Good restaurants close for at least one day a week so it is as well to make a note of which close on which day.
There are many coffee/and cake shops which are good; notably Prestige and Servaas van Mullem in Vlaamingstraat. Sale et Sucre in Geldmuntstraat serves delicious waffles and pancakes in the afternoons.
For breakfast/lunch try Het Dagelijks Brood (the Daily Bread) in Philipstockstraat – one large table, everyone sits round, waitress service, brilliant open sandwiches, soups. There is a church in this street which has English services; check for timings.
To buy: chocolate, tapestries, clothes (try Rubica on Steenstraat). Much of the lace available to buy in the shops is not handmade nowadays but imported from South America – still good. There are some supermarkets dotted around; the one we use is in Gelmuntstraat, opposite the end of St Amandstraat, by name of Proxy. For small household goods there is a shop at the top of Gelmuntstraat called Blokker which is worth a look.
For more information, try the link to Bruges: www.bruges.be
Click here for a map of Bruges.
Enjoy…
photos courtesy of Toerisme Brugge
© Daniël de Kievith
© Jan D'Hondt
© Jan Darthet
© Stadt Brugge