Unsung Heroes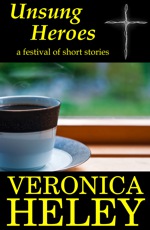 A collection of short stories, including three featuring Ellie Quicke.

Re-releases: February 2013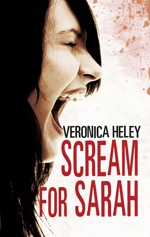 Scream for Sarah
Sarah thought herself too sensible to get into awkward situations and she rather despised women who screamed for help. She didn't think she had any reason to fear Toby when he offered to help her clear out the family's isolated county cottage, even though there had been some disturbing incidents in the neighbourhood which the local people blamed on the Jazz Festival being held nearby. Toby looked good husband material to Sarah, and she didn't doubt his motives until the tramp arrived. Then she discovered that Toby had his own plans for her and for the cottage, and she learned to scream as loudly as any other woman in fear for her life.
First published 1975
This edition 2013 Chivers (AudioGo)
ISBN: 978 1 4713 1997 6 hardcover
ISBN: 978 1 4713 1998 3 softcover

Re-released: February 2013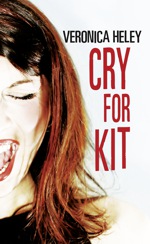 Cry for Kit
Glamourous Kit is happily married to a wealthy American, but still longs for the illegitimate child she was forced to leave in her sister's care eighteen years before. Widowed, she goes back home to established contact with her son, but her return awakens long-forgotten emotions both in herself and in the circle of friends in which she once moved. She is attacked, robbed and told to get out of town. Bewildered and unhappy, she finds herself fighting not only for her own life, but also for the lives of those she loves best.
First published 1976
New large print edition: 2013, Chivers (AudioGo)
ISBN 978 1 4713 1999 0  hardcover
ISBN 978 1 4713 2000 2  softcover

Re-release: June 2008
Sue for Mercy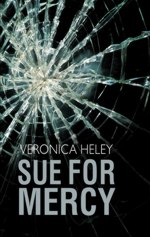 This is a crime story about an overweight girl with an inferiority complex, who finds a handsome man lying unconscious in the road after a car accident. But was the crash really an accident, and was the handsome Charles victim or villain of the piece?
Originally released in 1974.
Chivers Large print.
Hardcover ISBN 978 1 405 64570 6
Softcover ISBN 978 1 405 64571 3
Re-release: March 2008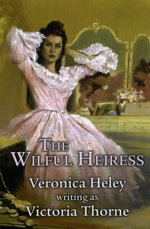 The Wilful Heiress
Lady Elisabeth Silverwood is young, beautiful and an heiress, but no fool. Fleeing the advances of a notorious rake, she finds herself pursued and her carriage cut off at a ford. A personable young farmer rescues her, and proves to be much more to her liking than Sir Maurice. Unfortunately Robin Prior despises everything she stands for, and though he helps her straighten out her tangled household affairs, he will not flirt with her as she desires. Meanwhile Sir Maurice awaits his chance to revenge himself on Robin, and possess himself of the heiress.
By Veronica Heley writing as Victoria Thorne.
ISBN 9781842 625897 (large print)
Magna

1974-1978 Five crime books:
Sue for Mercy, Scream for Sarah, Cry for Kit,
Fear for Frances, and Death for Deborah – Robert Hale
1980 My Lord, the Hermit, historical novel – Corgi
A Question of Courage – Atkinson Press, Australia
1981 The Tarrant Rose, historical – Fawcett Press, USA
l982 Longsword, historical – Corgi
1982 Kate, historical – Fawcett Press, USA
1983 The Siege of Salwarpe, historical – Robert Hale
1985 The Wilful Heiress, historical – Robert Hale
l984-94 Twenty children's books, including several series:
Natasha, Hawkeye, Sam & Co, Good for Kate – Scripture Union.
Two cassettes of the Natasha stories were produced with Wendy Craig doing the narration.
Three children's books: The Boy Who Wouldn't,
Fire! and In Deep – Water Lion Publishing.
1998-1999 Who, Me? Paul. Biography of St Paul – Bible Reading Fellowship.
New editions of three SU stories, plus two new ones published by John Hunt
2000 The Easter Tree – Bible Reading Fellowship.