Murder of Identity – book 8
Feisty widow Ellie Quicke collects some Portuguese laurel for Mrs Dawes, that formidable flower arranger, only to step on a dead body…a corpse without an identity. Next day, Mrs Dawes misses a wedding at church, and is discovered by Ellie and her grandson, badly beaten and close to death.
Much to Ellie's dismay, the police think shaven-headed Neil, Mrs Dawes' handyman grandson, is responsible, even after a third body comes to light.
As if this were not enough, Ellie's ambitious daughter Diana has gone into partnership with a smiling, steely estate agent, causing her to neglect her son, Ellie's aged aunt is making plans for the family which are sure to cause ructions, and their delightfully rotund vicar asks for more attention from Ellie than she can easily give.
So who has lost their identity and who has gained it?
The eighth Ellie Quicke Mystery
Hardback, Severn House, ISBN 978-0-72786-421-5
PUBLICATION DATE: December 2006.
Audiobook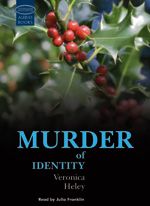 read by Julia Franklin
8 Compact Discs: ISBN 978-1-84559-849-5
7 Audio Cassettes: ISBN 978-1-84559-848-8
Purchase
Often available in hardback, paperback, large print, audio CD and audio download.
Amazon UK:
[amazon_link asins='B01MREIRYS' template='ProductAd' store='verohele01-21′ marketplace='UK' link_id='c87910c0-2071-11e7-9a21-d1fd5bcb0be6′]
Amazon USA:
[amazon_link asins='B01MREIRYS' template='ProductAd' store='veronicahel03-20′ marketplace='US' link_id='ce41c712-2071-11e7-81be-6965b21be8b1′]