Murder at the Altar – book 1
For years Ellie Quicke has been at her husband's beck and call, and now she's alone and unsure of herself. A greedy daughter and a difficult aunt demand money and attention, while potential suitors are already on the scene.
Then a brutal murder takes place in the church opposite. Is this something to do with the warring couple next door? Does the boy down the road know more than he's saying? The murder victim's mother goes missing. Ellie's sure she saw something important that night…but what was it?
As Ellie begins to weigh up the strange goings on in the neighbourhood, a personality more astute and capable emerges. Perhaps there is more to her than people imagine… though soon her own life is under threat.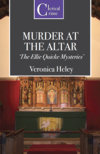 The first Ellie Quicke Mystery.
Current edition (see image to right):
paperback, Ostara Publishing ISBN 978 1906288136
Electronic Book
Old editions:
Hardback HarperCollins Religious ISBN 0-00274-073-7
Paperback HarperCollinsReligious ISBN 0-00274-074-5
Audiobook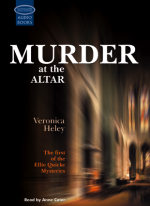 Read by Anne Cater
ISBN 1-84283-129-1
Purchase
Often available in hardback, paperback, large print, audio CD and audio download.
Amazon UK:
[amazon_link asins='B004GB0LYO' template='ProductAd' store='verohele01-21′ marketplace='UK' link_id='4a60f17a-2071-11e7-9bdd-39037f169f8b']
Amazon USA:
[amazon_link asins='B004GB0LYO' template='ProductAd' store='veronicahel03-20′ marketplace='US' link_id='4fd19d58-2071-11e7-811b-17b075a58cf5′]