Murder by Suicide – book 2
Just as Ellie Quicke is beginning to come to terms with life as a widow, malicious letters start to spread through the parish. The much-loved vicar and Nora, the rather feeble organist, are the first targets. Soon chaos is reigning in the parish and Ellie is called on to help.
But the messages keep on coming, and now the targets include Ellie herself. Perhaps there is more than one crafty hand at work? As one victim is tragically driven to suicide, Ellie discovers that the poison spread by the letters can be fatal to anyone who receives them.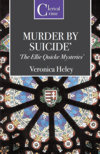 Current edition (see image to right):
paperback, Ostara Publishing ISBN 978 1906288143
Large print Thorpe 0-00712-293-4
Electronic Book: Kindle by Joffe Books. Publication date: 23rd September 2023
Old editions:
Hardback HarperCollins 0-00712-293-4
Paperback Harper Collins 0-00712-294-2
Audiobook
Read by Anne Cater
ISBN 1-84283-315-4
Purchase
Often available in hardback, paperback, large print, audio CD and audio download.
Amazon UK:
[amazon_link asins='0007122942′ template='ProductAd' store='verohele01-21′ marketplace='UK' link_id='c5524af7-2070-11e7-b723-c379da2eee95′]
Amazon USA:
[amazon_link asins='0007122942′ template='ProductAd' store='veronicahel03-20′ marketplace='US' link_id='cbafc7ac-2070-11e7-a74f-378ba169ad37′]
Reviews