Murder of Innocence – book 3
Ellie Quicke, fiftyish and recently widowed, is still trying to come to terms with her newly single state. She's coping, just, but could do without everyone else making demands on her; Diana, her selfish daughter, who expects Ellie to drop everything to babysit, the builders working on her new conservatory and her elderly and irritable Aunt Drusilla. To cap it all, ten-year-old Tod, who lives next door, has gone missing.
Ellie is very fond of Tod, and his disappearance shocks her to the core. Before she knows it, Ellie is caught up in a police investigation that casts a horribly sinister shadow over her respectable, close-knit community…
The third Ellie Quicke Mystery.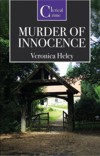 Current edition (see image to right):
paperback, Ostara Publishing ISBN 978-1-906288-32-7
Hardback Severn House 0-72785-982-X
Large print Severn House ISBN 0-72787-384-9
Electronic Book: Kindle by Joffe Books. Publication date: 30th September 2023
Audiobook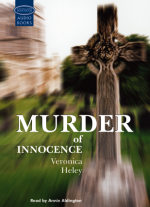 read by Annie Aldington
ISBN 1-84283-655-2
Purchase
Often available in hardback, paperback, large print, audio CD and audio download.
Amazon UK:
[amazon_link asins='1906288321′ template='ProductAd' store='verohele01-21′ marketplace='UK' link_id='bf6a9197-2064-11e7-b766-49c74cd7863d']
Amazon USA:
[amazon_link asins='1906288321′ template='ProductAd' store='veronicahel03-20′ marketplace='US' link_id='c5989975-2064-11e7-99dc-0d6d208815a9′]