Murder by Accident – book 4
Adjusting to life as a wealthy widow, Ellie Quicke is shattered to hear that her difficult but endearing Aunt Drusilla has been killed in a freak accident. Her only son, Roy, is also devastated. However, Aunt Drusilla has made many enemies in her time, among them Ellie's selfish daughter Diana, who believes she's her great-aunt's heir.
What if it were not a genuine accident? And what if Aunt Drusilla's cleaner were missing? The police are suspicious of all those closest to Aunt Drusilla, which includes not only her family but all those who have worked for her…and their families, too.
Ellie struggles to keep her dysfunctional family from falling apart as each one in turn is suspected of murder.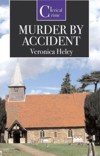 The fourth Ellie Quicke Mystery.
Current edition (see image to right):
paperback, Ostara Publishing ISBN 978-1-906288-33-4
Hardback Severn House ISBN 0-72785-994-3
Large print Severn House ISBN 0-72787-451-9
Electronic Book (Joffe, on Amazon)
Audiobook
read by Julia Franklin
ISBN 1-84283-837-7
Purchase
Often available in hardback, paperback, large print, audio CD and audio download.
Amazon UK:
[amazon_link asins='190628833X' template='ProductAd' store='verohele01-21′ marketplace='UK' link_id='0a29e32e-2071-11e7-91d7-dbb660623ced']
Amazon USA:
[amazon_link asins='190628833X' template='ProductAd' store='veronicahel03-20′ marketplace='US' link_id='0fbd0b45-2071-11e7-ac1e-1d22c1975775′]